In a ground-breaking competition, MiWayLife has given away a herd of Nguni cattle to the value of R250,000!
38-year-old Zingisa Madaki formerly from Eastern Cape, cried tears of joy as Kaya FM DJ T–Bose announced live on air that she was now the owner of a herd of hardy Nguni cows.
Hailing from Uitenhage, Zingisa believed that she would never strike it lucky. "I have always believed that the winning luck will never come my way, but when I heard the cattle competition I thought I would try my luck and sent through 7 sms's. When my name was called, I cried in disbelief, this prize was really going to change everything."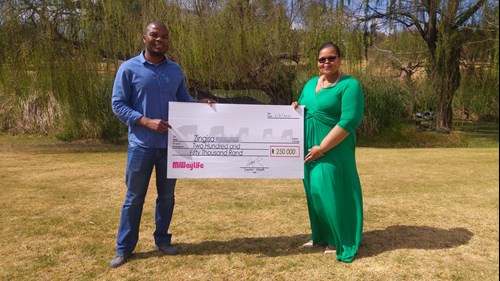 Photo: Zingisa receives her prize from Castro Mtsutsa, Head of Operations at MiWayLife
After a few days, Zingisa opted to rather invest the value of the herd for a rainy day. "Winning has taught me to never stop believing and never stop having faith. I am so grateful to MiWayLife because it has not only changed my life, but my family's as well. A large sum has been invested until I decide how best I would like to use my 'blessings.'"
"We crafted this competition, to show that we think about life and business differently, and to leave people better off and hopefully self-sufficient. In this case the winner of the competition received a substantial store of value that will grow and create further wealth for them and their families" comments Craig Baker, CEO of MiWayLife.
One of the MiWayLife values is that of freedom and this prize had the ability to bring substantial financial freedom to the winner. Included in the prize was grazing and feed for a year. The land required to keep the cattle and the vet bills were set to be paid by MiWayLife for a one year duration as part of the prize. However, Zingisa made the decision to invest the rand value of the prize instead.
With this competition, a collaboration between MiWayLife and CHOC Childhood Cancer Foundation SA and the fundraising dynamos known as The Cows was formed, and as direct result of donations by not only competition entrants but MiWayLife themselves, the team recently handed over a cheque to the value of R20,000 to the organisation.
Need more information on
MiWayLife?
Read about our
life insurance
product, or get a
life insurance quote
in 30 seconds. Alternatively, call us on
0860 64 54 33
.